The world of recruitment is wide and varied, making memorable moments inevitable.
However, it's not always sunshine and rainbows.
In fact, sometimes these escapades can turn into unforgettable funny recruiter stories.
Some because they're so horrible, and some because they're so hilarious. 😱😂
If you want to raise your recruitment game, learning what not to do is as important as learning what TO do.
And hopefully, these job horror stories will help you do exactly that.
Here are ten of the best, courtesy of the AdBuilder team.
Contents
10 Unforgettable Recruitment Stories You Won't Be Able to Stop Reading
When you work in recruitment, bad interview experiences happen.
We've had our fair share at AdBuilder, and we've learned from them.
But sometimes, when the tale is truly ridiculous, sharing a faux pas at the dinner table isn't enough. 🤷‍♂️
These stories demand to be read.
You'll see what I mean in approximately five seconds…
1. He Smashed the Interview (And His Face) 🤕
Recruiter horror stories and hilarious hiring scenarios happen.
This one is on the funny side, and it comes from Bill Fish of ReputationManagement.
It's all about a candidate that made a lasting impression – not only on his interviewers but on a window in the office.
Yes, that's correct: This is a floor-to-ceiling window next to a glass door mishap situation.
"I was in Manhattan in 2007, and our parent company was bringing in a high-level candidate for a performance marketing position.
I wasn't the person performing the first interview, but I was going to get a chance to speak to the candidate.
As he was being led into the office in which the interview was taking place, I happened to be standing in the area with a co-worker.

I was quickly introduced, and as the candidate was walking in, he didn't realise that there was a window next to the door the same shape as the door.
I'm guessing he thought it was a big doorway, and he walked directly into the glass.
It was so bad that he put a giant face print on the glass.

As you can imagine, the sweat came pouring out.

He ended up getting hired and was a huge asset to the team.
That said, we circled the face print on the glass so the cleaning staff wouldn't wipe it off, and it lasted for a good six months."
So, what do you think?
Poor judgement when designing the building, or an oblivious candidate?
Either way, it's certainly made for a funny story.
And I'm sure the recruit still has some glass-based nicknames around the office.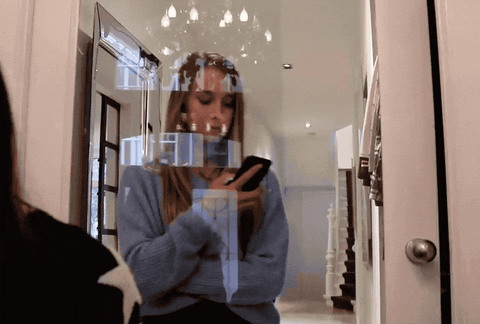 2. 'I'M ON THE PHONE!'
This Reddit recruitment horror story from user jenjen2317 has me thinking hard about how anyone could be this oblivious.
We've all got phones, right? 📱📞

But we also know when to use them, and when not to. Right??
Maybe not so much.
"We had a guy come in for an interview, and he showed up a full 40 minutes prior to his scheduled interview.
One room office shared by three people, so there's no good place for him to wait.
I said you can go to the coffee shop next door and come back at the scheduled time.
He said, "No, I'll just wait here – I have a phone call to make."

He proceeds to have a very loud phone conversation in our one-room office.
When it was finally time for his scheduled interview, he was still on the phone, and actually shushed me, saying, "I'M ON THE PHONE."

Ten minutes later he was ready to be interviewed.
Not even sure why we proceeded with the interview, but it was over quickly and his resume was in the recycle bin before the door even closed."
In my opinion, he was lucky they went through with the interview.
If you enter the building with that attitude, expect to be swiftly presented with the exit. 👋
3. Your Job Title Needs Work 🤦‍♂️
Writing a cracking job advert isn't easy.
Nobody knows that better than us since that's exactly our specialism at AdBuilder.
(Need help? You know who to call!)
But there's getting it wrong, and then there's getting it really, really wrong, as in this story shared by 'T.' on the Workable website…
"I took a job in student accommodation as a Service and Sales Advisor.
On my first day, I was looking forward to seeing the office where we would welcome students, and getting comfortable at a desk.
Instead, as soon as I arrived on campus, the manager pointed out a mattress to me.
Unfortunately, it was not for a power nap after lunch.
I actually had to carry this mattress on my back, plus a few dozen more over the next few weeks, and deliver them to students' rooms.
I have to admit; this was not the kind of assistance that I'd thought I'd provide!"
Misrepresenting a role that badly is a disaster waiting to happen.
As a recruiter, doing so will risk damaging your client's reputation and destroying a working relationship in the process.
Get your job adverts ship-shape and bias-free with AdBuilder and AdGrader.
4. 17 Pages, Front and Back
Recruiters read a lot of CVs.
As you know.
When you get a CV that waffles for a little too long, it's easy to lose patience.
It's not an autobiography, after all. 📖
But what if you received a CV so long you almost couldn't believe it was real?
That's what happened in this incredible HRD recruiter horror story…
"This person sent a 17-page resume.
The applicant was a woman in her 40s who listed every single thing she had ever done.
Seminar on art appreciation in 1987?
Listed.
Scuba certification in Australia in 1993?
Listed.
Six months working as a nanny for a 12-year-old girl in upstate New York in 1999?
Listed.
Page after endless page of it."
I think I'd give up about five pages in.
I'm sure that scuba certification was fun, but I do not need to hear about it 30 years later, and neither does anyone else. 🤿
5. A Convict with Plenty of Conviction
Marilyn Weinstein of Vivo shared a completely wild message from a potential candidate with… well… a lot of self-belief.
Imposter syndrome?
This person has definitely never heard of it.
"Hi – I last contacted you on 2/20/2014 seeking work.
Normally, someone of my experience and skill set would be employed immediately.
I would like to disclose the reason I am still on the market to prevent wasting anybody's time.
I am a convicted felon in California, Georgia, and in Federal Courts.
I am the victim in each case.
My non-violent felony pseudo-crimes include escape, tax evasion, and resisting an executive officer.
My actions in each case were justified by the failures of individuals who represent the justice system.
In each case, I did the right thing and was maliciously prosecuted.
Let my recent and past work speak for itself."
Would you hire this fearless felon? 🤔
With that much self-confidence, who could say no? (Me, probably.)
6. The Fear of Helmet Hair Was Too Real
When preparing for an interview, most people try on endless outfits to find the best fit.
But whether it's a suit or smart casual that the candidate plumps for in the end, the look isn't often topped off with a helmet.
Ryan Tweedy from De Winter Group shared this funny recruiter story along with five others.
And honestly, I cannot stop thinking about it.
Listen to this…
"I had a large project to staff for desktop support individuals and was lining up about 20 interviews a day at my office.
When each person arrived, they would be escorted to one of our interview rooms and I would come up front to meet them.

When I walked in to meet this guy, I was surprised he still had his motorcycle helmet on.
I asked if he would like to take it off and begin our discussion.
In response, he said he wanted to keep it on but then flipped open the visor.
I spent the next 30 minutes interviewing him this way.
Sadly, he didn't get the job."
Whether that was a direct correlation to the weird helmet choice, we may never know.
But what I know is this: If I were in that situation, I would not have been able to maintain a straight face for 30 minutes. 😆
7. The Victim of a Demonic Curse 👹
Bad luck finds us all.
Whether it's being splashed by a car on the way to a first date or stepping in dog mess in your favourite pair of shoes, it can hit us all where it hurts. 💩
Some people, however, take it a little further.
In this story from Martyn Bassett, a woman is convinced she's cursed…
"For most people, getting the news that you're out of the running for a job stings at least a little bit.
As much as we want to tell ourselves that it isn't personal, rejection isn't fun.
You spend a few minutes stewing thinking that they made a horrible mistake, talk about it with people closest to you, take a few deep breaths, and then move on with your job search.
It's not personal, it's business, and you know that the right job is out there for you. 

For one candidate, it wasn't just news that she wouldn't be going through to a second interview — it was incontrovertible proof of something she'd suspected all along: She was cursed. 

Apparently, there had been a string of bad luck in her life, which started just after a trip to New Orleans.
Thus, the most logical conclusion was that she'd been cursed during her travels (what she thought she'd done to deserve being cursed, she did not share), and needed to exorcise the demons that were following her."
We're talking job horror stories while this woman thinks she's living her own actual horror story!
Maybe I should cancel my trip to New Orleans next year?
8. The Sockless Wonder
Sandal season is the best time of the year for some people and the worst time of the year for others.
If you dislike feet, consider skipping this next terrible tale from Catenon World, in which an interviewee does the unthinkable… 🤢
"In the middle of an interview, a candidate complained she was hot.
She then proceeded to remove her shoes, then her socks.
After carefully laying them on the table, she said 'excuse me', and continued as if everything was normal.

It wasn't."
Just no.
I have nothing else to add.
9. SpongeBob Has Officially Had Enough 🧽✋
Part of being interviewed is being asked questions – and they aren't always easy.
In this next story, a candidate struggled with the questions to the point where he blew up and, unfortunately for him, stood up.
Here's what Israel Gaudette, founder of Link Tracker Pro, experienced…
"I was virtually interviewing for a copywriter.
The interview started on time as scheduled.
First, I asked a couple of personal and out of the box questions.
The interviewee answered it all with confidence.
I complimented him and said those were just warm-up questions and the real ones are about to follow.
Then I sense a little bit of annoyance in his face.
I didn't mind it and continued with the logical questions that I prepared: a series of 10 questions that get more difficult progressively.

By the time I got to the eighth question, he suddenly stood up and yelled, "Enough! I don't deserve this!" and hung up.
The funny thing is, I was not fazed by his reaction.
Instead, I was left laughing, seeing his SpongeBob boxer shorts when he stood up."
If you're not going to answer the questions, at least wear some more age-appropriate boxers to your interview.
That's what I call evergreen wisdom.
10. The Cupboard of the Stubborn
We aren't all that good at admitting when we're wrong.
The more stubborn you are, the more difficult it can be for you to admit that you've made an error.
But there's got to be a limit somewhere, hasn't there?
Maybe somewhere around admitting you've accidentally walked into a cupboard instead of a hallway? 😭
Check out the final one of our funny recruiter stories, shared by ProCore Solutions…
"My mum went for an interview at a prestigious law firm.
All went well and she was confident she'd given her best and so shook the interviewers' hands and exited the room.
Only, she hadn't exited the room, she had walked into a small utility cupboard. Instead of just popping back out and laughing it off my mum decided to stay in there!

Quite clearly the three interviewers had watched her walk in there.
It took a few minutes (probably as the interviewers expected her to emerge) until they opened the door and asked if she was okay.
Instead of admitted her mistake at that point, she instead stuttered: 'I was exploring my potential new company' and then bolted out of the real exit.
She got the job, too!" 
That must have been a really strong interview preceding the cupboard debacle.
Hopefully, she isn't still in there.
Improving The Recruitment Process Equals Elevating Your Quality of Hire
These recruitment stories are hilarious, but in many cases avoidable.
If you want to ensure that you don't become a player in one of the many job horror stories circulating online, make sure you're doing everything you can to attract top-quality candidates.
One thing you can do?
Enlist the help of AdBuilder to help you build consistent, quality job adverts that cover every base, and the help of AdGrader to ensure you're never using exclusionary language.
Hopefully, if your recruitment agency does everything it can, you won't end up face-to-face with someone's bare feet. 🦶
For even more ways to improve your hiring practices as a recruiter, stay on our blog and check out: